River Rafting around Chilliwack and Cultus Lake
Cultus Lake is famous for being a beautiful and popular warm freshwater lake. The water is quite warm, clear and often very calm meaning there is ample opportunity for fishing, boating, water-skiing and swimming.
There are also beautiful rivers nearby. These rivers are used for fishing, kayaking and river rafting. River rafting is popular in BC and the Chilliwack and Vedder Rivers are popular for this.
The Chilliwack is a smaller and shallower river, creating long and continuous rapids with many shoots and drops for river rafting. On all Chilliwack trips operates usually use smaller (16ft) self-bailing paddle rafts. These rafts hold 6-9 people and a guide. All Chilliwack trips should be accompanied by an experienced safety guide and kayaker. The Chilliwack is at its best when the mountain snows are melting, providing the water necessary to create these exciting rapids. This is the best trip available close to Vancouver; only 90 minutes from the city.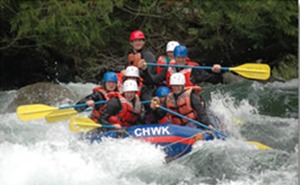 White Water River Rafting
49704 Chilliwack Lake Road, Tel. 1-800-410-7238 or visit www.chilliwackriverrafting.com
Chilliwack River Rafting provides rafting, camping and catered meals at their private, relaxed, wilderness setting which includes 1500 feet of river front and panoramic views of the Cascade Mountains. At Chilliwack River Rafting , you can choose a moderate to intense whitewater adventure or an easier family rafting adventure. Chilliwack River Rafting is the only company to raft the challenging Chilliwack Canyon. Chilliwack River Rafting is an insured, family run business that guarantees fun for everyone. Raft trips are 14 kms of paddle rafting and take 4.5 to 5 hours to complete. Tours are available year round.
Kayaking
Canada's national white-water kayaking team regularly train on the Chilliwack river which offers great kayaking including some excellent white water at the rapids near Tamihi Bridge. Watch for the metal flags strung above the river east of the Vedder Crossing Bridge that outline the kayak slalom course. The Chilliwack is graded from Class ll to Class lV with rocks, boulder gardens, blind corners, haystacks, and surfing waves. The canyon portion is steeper and more demanding. Chilliwack River highlights include the Picket Fence Rapid, Cable Pool, Boulder Run and the Race Course. There are 33km of the Chilliwack river to run. If you are looking for intermediate-level paddling should try the section between the Chilliwack river Salmon & Steelhead fish hatchery and the Vedder Bridge, a distance of about 20km.
Explore all the activities at the resort and in the surrounding areas on this page.
Ready to come visit? Explore all the beautiful cottages available for rent.